Did you know that Magnolias of Walterboro, an assisted living facility in Colleton County South Carolina is a pet friendly family?
Magnolia's Of Walterboro, Senior assisted living facility believes that our furry friend and resident bring out the best in our senior residents.

Our Genie is a real Carolina dog. See what they say about seniors and how animals improve their quality of life and their connection with pets.
Even Genie has her own nameplate at the front door. It took some research, but we found out that she's a local, her breed is a Carolina Dog.
More about Genie here

(NewsUSA) – Many older adults experience feelings of loneliness and isolation as they age, but pets can provide the companionship and love seniors desire. A new survey conducted by Home Instead, Inc., franchisor of the Home Instead Senior Care Network, found regular interaction with animals can help to reduce feelings of isolation and loneliness in older adults.
The most frequently cited benefits of pet ownership are company, comfort, unconditional love, entertainment and improved mood. In fact, 86 percent of pet owners agree they would be lonelier and less happy without their pet, and 58 percent agree that they would not be as physically healthy without their pet.
The companionship and love provided by a pet can be especially meaningful for those most at risk for isolation. Home Instead found that pet owners who live alone are significantly more likely to report increased benefits of pet ownership.
Owning a pet can also be an important factor for seniors deciding where they will live as they age. According to the survey, 82 percent of older adults say they will not consider moving to a senior living community without their pet.
While interaction with animals has been shown to improve mental and physical well-being in older adults, research from Home Instead confirms that seniors don't need to own pets to experience the benefits. Those who regularly interact with, but don't own, pets report feeling better just spending time with animals owned by family, friends and neighbors.
There are many ways seniors can interact with animals without taking on the responsibility of pet ownership. Here are a few ideas:
* Volunteer at a rescue organization or animal shelter. Many rescue organizations and animal shelters could use an extra hand. Seniors can help provide care for animals, including feeding, watering, restocking supplies, washing dishes, walking dogs, cleaning cages and enclosures or socializing with the animals. Volunteers experience the benefits of interacting with pets, and they can provide some care to an animal in need.
* Get to know your neighbors' pets. Seniors who regularly walk their neighborhoods will likely see pet owners walking their dogs. Asking to join them for a walk might lead to new friendships with neighbors and dogs.
* Connect with a therapy animal. Pet Partners therapy teams, made up of a pet owner and his or her registered animal, go into many locations where seniors are living or being treated, such as hospitals, hospice centers and care communities.
* Visit a pet store. Some pet stores sell small animals, such as guinea pigs, hamsters, chinchillas, gerbils, mice, rats, certain geckos, bearded dragons, snakes, and specific types of frogs, birds and fish. Visiting can provide a pet fix!
With so many options available, finding the right animal interaction for each individual should be as easy as a walk in the dog park.
To help older adults determine what type of pet interaction is right for them, the Home Instead Senior Care® network is offering free information and tips to help seniors incorporate animals into their lives. To learn more about how older adults can bring animals into their lives, visit PetsandSeniors.com or contact your local Home Instead Senior Care office or www.homeinstead.com.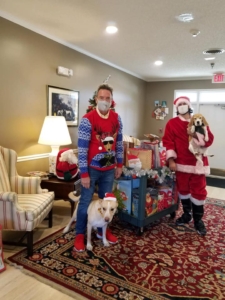 Maintaining independence is important for people as they age. In fact losing their independents is one of the biggest fears seniors have. An overwhelming majority want to remain in their houses and understandably so. But the reality is that 1 in 5 U.S. adults age 85+ say they either need or currently receive help with activities of daily living (ADLs). Is there a way to get that kind of help and still be as independent as possible? Yes…. Magnolias offers southern hospitality at it's finest! We strives in the ability to allow seniors their independence while still getting as much help as needed. It's the Care that Counts and at Magnolias the care is immeasurable. The Lockwood team offers medication management and assistance with using the bathroom, dressing and grooming (ADLs). Housekeeping, meals, laundry and transportation services, as well as social programs and activities, Staff is available 24/7 to help with safety, care and support, No levels of care and one flat fee with a month to month contract. Companion Suits or Private Suits fully furnished (Twin bed, Dresser, Nightstand and flat screen tv) are available. Residents are encouraged to bring personal items to make their new home feel like home. Call us today, set up a tour, meet our amazing staff, and the residents favorite house dog, Genie!!!